National Farm to School and Farm to ECE Month
Serving a variety of local fruits, vegetables, herbs, grains, dairy products, and protein foods is key to offering healthy meals in schools and child cares. Though we're nearing the end of October, we wanted to squeeze in a few days to shine a light on connecting schools and early childhood providers with gardening, farming, and local produce opportunities during National Farm to School/Farm to ECE Month.
What does "Farm to School" or "Farm to ECE" mean?
The concept of farm to school or farm to ECE (ECE is an acronym for early care and education, and includes child cares, preschools, and pre-Ks) is to build channels for children to learn about how fruits and vegetables are grown, expose them to local growers and produce vendors, and create opportunities for schools and child care providers to offer produce-packed, healthy meals. Farm to school and farm to ECE can encompass many different activities year-round, often depending on the season. There is the planting season in the early spring, the growing season in the summer, and the harvest in the late summer and fall. The idea of farming or gardening can often be daunting for educators but there are loads of resources available to help.
A great place to start learning about farm to ECE or farm to school activities and opportunities is at the Indiana Grown for Schools website, which has multiple toolkits for both ECE and schools.
There are also public resources available for anyone to access. Purdue Extension has this growing calendar to help educators learn the timing of planting and harvesting. The Department of Workforce Development has this calendar for Indiana produce seasons.
Farm to ECE Learning Collaboratives
Jump IN has partnered with SPARK Learning Lab and Nemours Health to offer Learning Collaboratives to ECE providers this year. There are three distinct 12-week units: 1) Gardening, 2) Food and Farming Education, and 3) Procurement. The Food and Farming Education unit is wrapping up in the next couple of weeks. We will open up the registration for the Procurement unit by the end of the year with an anticipated start date in January '24. Each of the first two Learning Collaboratives filled up entirely and had a waiting list.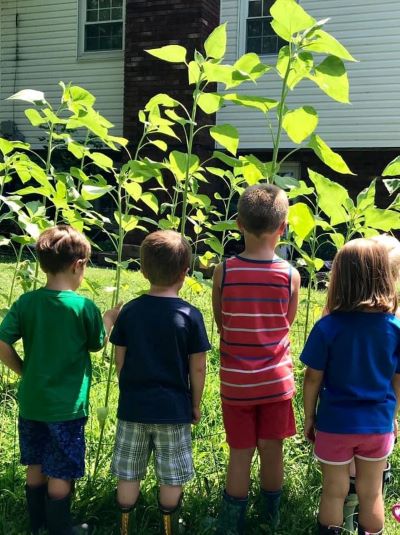 The Learning Collaboratives have included 6-7 live, virtual learning sessions followed by goal planning and action periods supplemented by direct technical assistance from SPARK Health and Wellness Coordinators. Guided by SPARK instructors, the provider-participants have learned about creating gardens at their child cares, introducing different fruits and vegetables to the children (including fun taste tests!), engaging families with local farmers markets, preparing fresh fruits and vegetables, and even more specialized areas of gardening like composting.
These photos are from Casa Maria's Creative Learning Zone in Evansville, IN. Maria has participated in both the Gardening and the Food and Farming Education Learning Collaboratives and has focused on composting during the Food and Farming Education collaborative, teaching the children all about composting and fertilizing. She used her collaborative incentive money to purchase a large, new compost bin for her center.
Farm to School Work in Indiana
Farm to school work takes place at a more local level, from school district to school district and building to building. In Indiana, nearly 700 school building are participating in farm to school programs. You can take a look hear to see a snapshot of farm to school projects in Indiana. If your school is interested in beginning a farm to school program, you can begin by consulting one of the toolkits above or by visiting the Indiana Department of Education pages with instructions on getting started.
Accessing Fresh Fruits and Vegetables Near Me
The winter farmers market season is upon us! In Indianapolis, two central markets will be starting in the next couple of weeks. Visit the National Farmers Market Directory to find one near you. In Indianapolis, many offer Fresh Bucks as payment. Learn more here. In Indianapolis:
 
The Indy Winter Farmers Market will be at the AMP at 16 Tech at 1220 Waterway Blvd from 9:00 am to 12:30 pm starting November 4th.
 
The Broad Ripple Farmers Market Winter Market will be held in the old Macy's space in Glendale Town Center at 2615 E. 32nd St from 9:00 am to Noon starting November 11th.
Even though the weather is turning colder, seasonal fresh fruits and vegetables are available. If you are purchasing your produce at the grocery store, you will likely find fruits and vegetables to be less expensive when you buy them in season. Here's a helpful guide to determine when to find the freshest (and hopefully least expensive) produce during different times of the year. Here's a helpful guide from our friends at the Produce Moms about selecting and storing produce year-round. And here's one more about what's in season in November so you can plan for the next month. Enjoy!
Subscribe for more
Want more ideas for healthy schools, workplaces, child care providers, and families? Subscribe to our blog for weekly tips delivered right to your inbox!